Happy Tuesday!
Welcome CY365 (Capture Your 365) Blog Hoppers and all my regular readers too! Blog Hoppers, every Tuesday I offer a free template to my fabulous readers. Regular readers, I am a part of a Blog Hop regarding Project 365 aka Photo of the Day.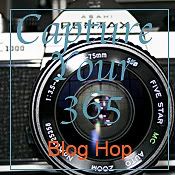 Let's get started with the free template. Here is how I used today's free template:
Friends Mini Kit found HERE
Let's talk design for just a sec. Why does this layout work?
1.
Proximity
: All the important elements of this layout are touching or near each other. This gives the layout a sense of unity.
2.
White Space
: Actually, it's blue in this case! The space without text or graphics is considered white space. White space gives the viewers eye a chance to rest.
3.
Visual Triangle
: The splashes of red (number, stitching, sticker) form a visual triangle. The triangle encourages the viewer's eye to travel around the layout. Try creating a visual triangle with items that are the same color but not the same texture or size.
4.
Common Margins
: The entire layout is framed with a patterned paper. This framing gives the layout an additional sense of unity.
If you are new to digi scrapping, you are going to need some software to get started. Go to www.adobe.com and download the FREE 30-day trail version of Photoshop Elements. (For a direct link, click
HERE
) There are instructions all over the web as to how to get started in digital scrapbooking. Go
HERE
for some great instructions and links!
Here is the template (TIFF & PSD) can be downloaded
HERE
for free (expires April 19, 2011)
I have had numerous comments about how handy the text paths are for PSE users. I thought a number text path might be useful too! :)
:::::::::::::::::::::::::::::::::::::::::::::::::::::::::::::::::::::::
CY365
2011 is my third year of doing POTD/Project 365! I love doing it, even though it's a chore at times! My family and friends LOVE reading the books as it reminds them of things that they have already forgotten! Today I would like to share with you my POTD books from 2009 & 2010.
Here is 2009 (the template used in most of this book can be found
HERE
):
Here is 2010 (I created an entire year's worth of templates similar to this book which can be found
HERE
.) Simply add photos and journaling and you are done!
In case you missed the other stops in the blog, here is a list of participants:
Thanks for stopping by and have a great day!